Oxymetazoline Hydrochloride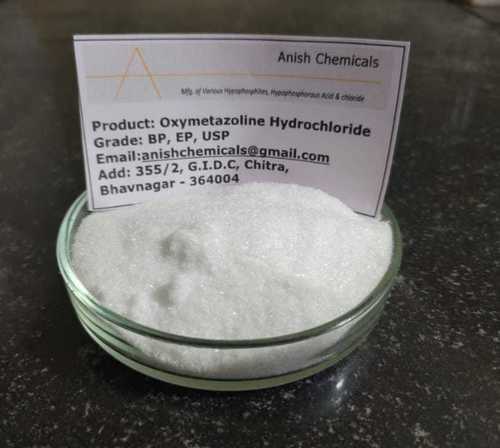 Oxymetazoline Hydrochloride
Product Description
Oxymetazoline Hydrochloride
Oxymetazoline Hydrochloride available in BP, EP and USP grades, is one of the nasal decongestants used in nasal sprays as it can reduce nasal congestion. This hydrochloride salt form of oxymetazoline results from the reaction between oxymetazoline and hydrogen chloride. It provides temporary relief from nasal congestion associated with allergies and colds. Do not use more often than recommended. It is essential to consult your doctor before using this nasal decongestant if you have urination problems, diabetes, high BP and other medical conditions.

Storage
Store in a cool and dry place away from sunlight.
FAQs
How does OXYMETAZOLINE HYDROCHLORIDE work?
OXYMETAZOLINE HYDROCHLORIDE constricts blood vessels, decreasing blood flow to the affected area. As a result, it relieves inflammation and alleviates symptoms.
Does OXYMETAZOLINE HYDROCHLORIDE cause drowsiness?
OXYMETAZOLINE HYDROCHLORIDE can make you drowsy and dizzy. So, after taking this medication, avoid driving or operating heavy machinery.